Reception Day
A Day in Reception Class
It is important that children settle quickly and look forward to school. We find that this is usually the case because of our Induction visits. Children who have been offered a place in school will make several visits to meet everyone and get to know new faces. By the time they start, they will know their teacher, where to go and have made some friends.
Every day there will be opportunities for play and for more direct learning. Children choose from a variety of structured activities that enable them to explore, investigate and practise emerging skills, together with other children. Alongside this, the teacher introduces new learning which builds on each child's strengths.
Children goes into school at 8.50am and the day usually starts with movement and dance. Everyday, there are lessons in English and mathematics and learning takes place inside the classroom and outside. This year, we have introduced 'Outdoor Friday,' when children dress for mess! We go out, often to local woods, to explore the natural world - and we love it!
At lunchtime children eat in the School Hall; all children are entitled to a free school dinner. After lunch, children play with play equipment and there are games with lunchtime staff.
After lunch, play and learning continue. We have fruit and milk in the afternoon and finish school at 3.20pm.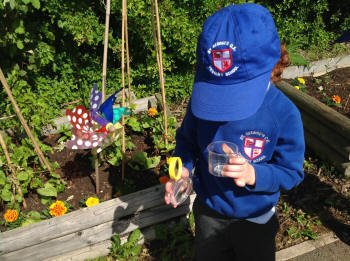 School is an exciting place for new experiences, and for making friends. The curriculum includes helping children to develop social skills to get along with others and work together.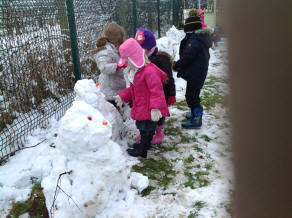 Going to school is a major milestone in a child's life. Being 'School Ready' makes this step much easier for a child.