Welcome to

Class 6

! Come, take a look around

here

!
Many of life's failures are people who did not realise how close they were to success when they gave up - Thomas Edison
We are authors!
Last week we joined in with an exciting whole school writing project. Each class watched 'Origins', a Literacy Shed video and wrote a description of the robot and what happened to him. Take a look at the video here and then see how clear you think our description are.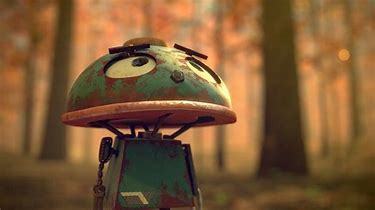 Have a look at our versions of the story!
EA WB NB OB OBD MB GB TE EF DF AG CG JH LRH SH LH CJ JLB SM TMP MMP MRP SS JT LT JU AW DW BY OY
We are internet safe!
The 5th of February was 'Internet Safety Day' – this year's theme was "Our Internet, Our choice". We have learned about the risks of the internet and how we can use it sensibly. This involved us choosing what we would do in a certain scenario and inferring what people meant in a made-up group chat: named 'Besties'. We also created posters in order to spread the message that we should all be safe on the internet. Here are a few of the finished models: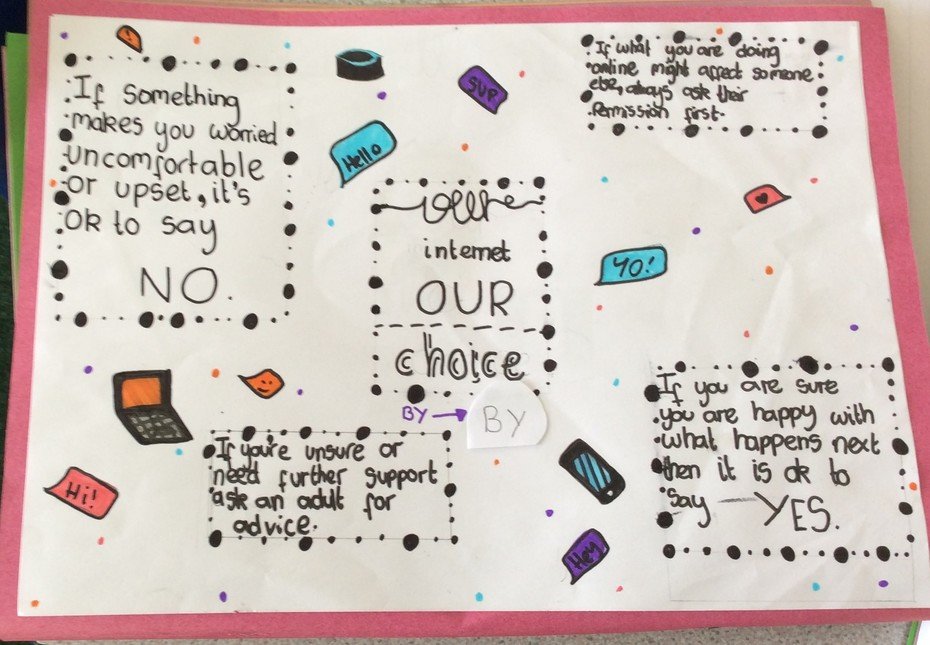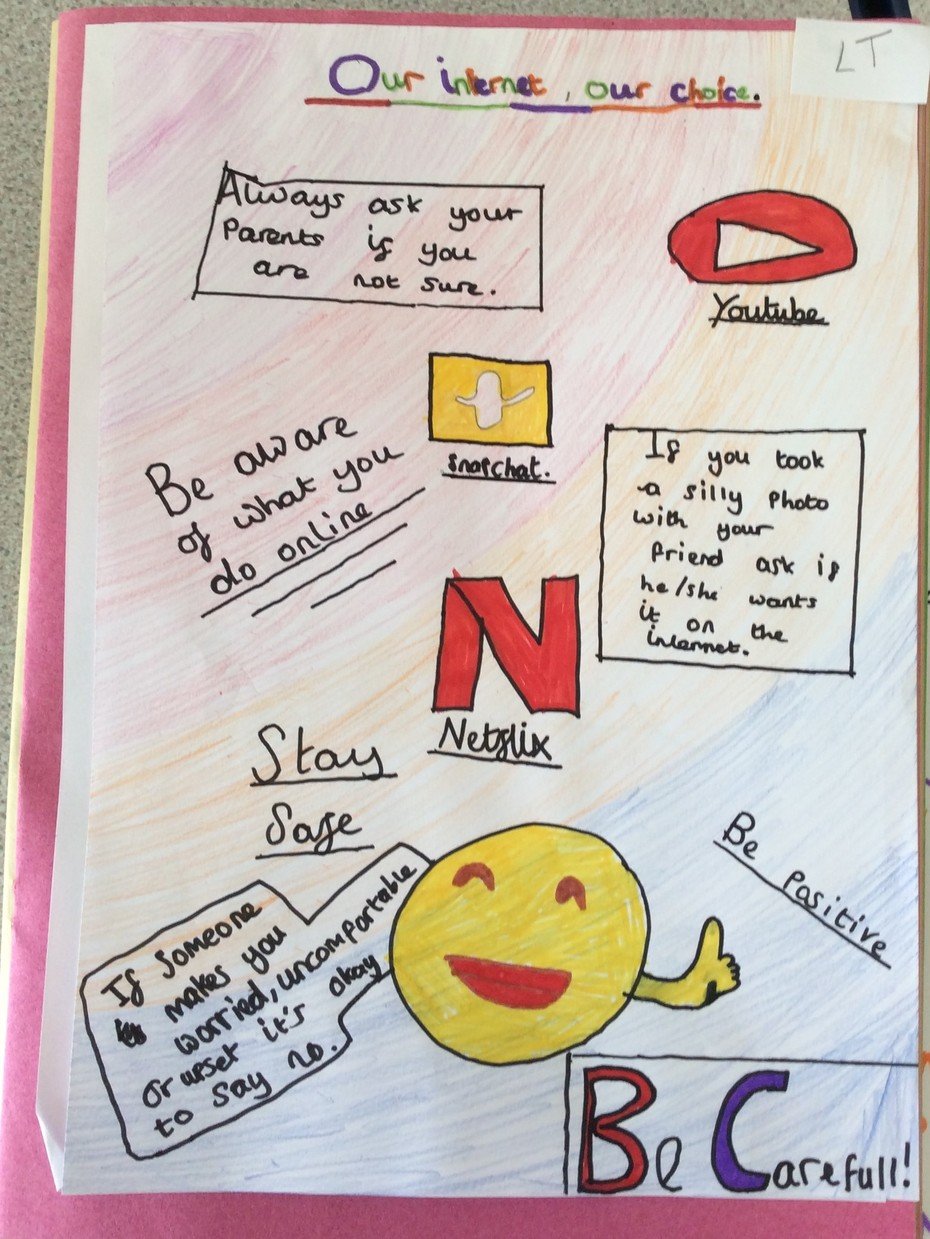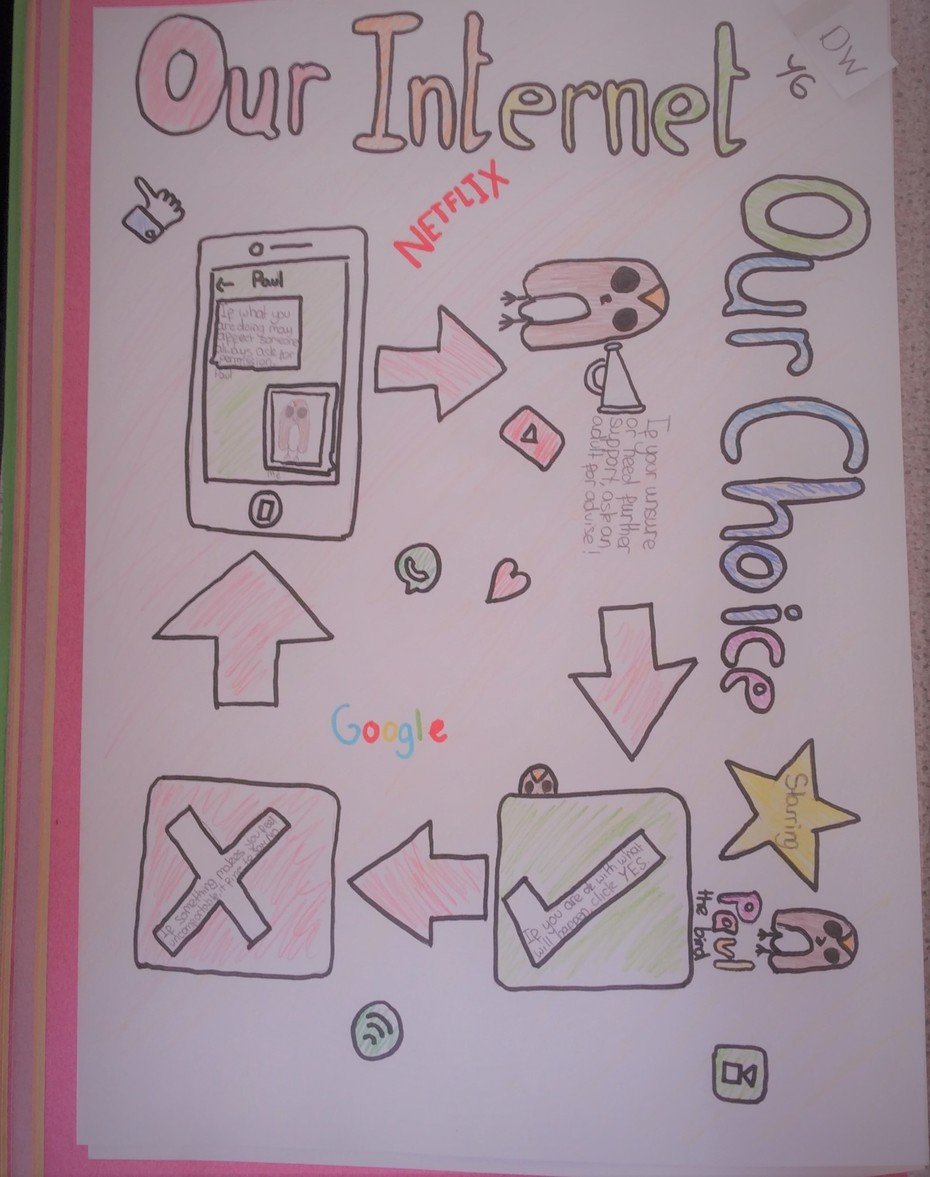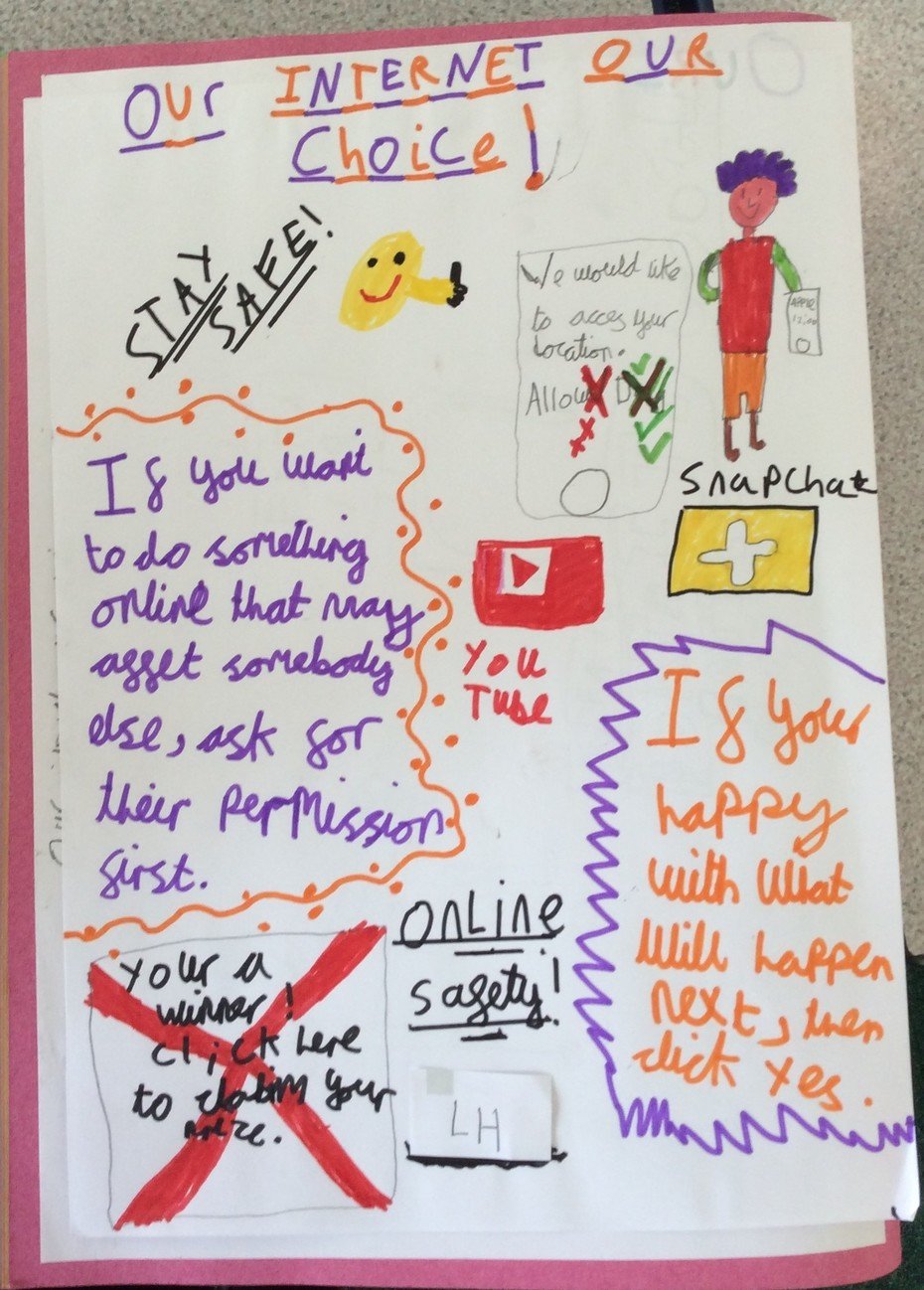 We are adventurous
At the end of this half term, we will be experiencing PGL at Boreatton Park. This holiday will be starting from Wed 10th April (close to someone in the class' birthday). There are all sorts of activities at PGL such as: kayaking, archery, quad biking and tunnelling etc. There are 6 people in each cabin and we are all very excited.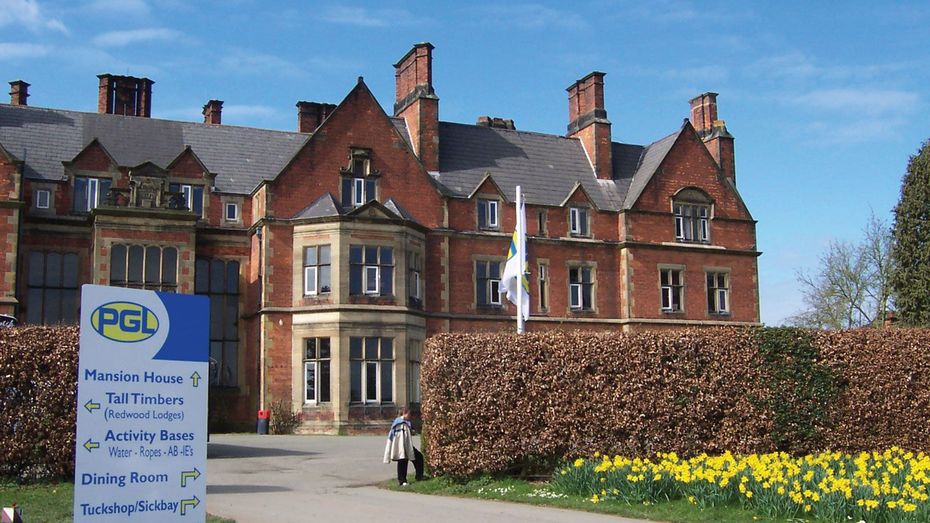 We are scientists!
Recently in science, Class 6 have been learning about living things and their habitats and have been learning the Linnaean system of classification. We have even made some random creatures of our own. Here are some of our favourites!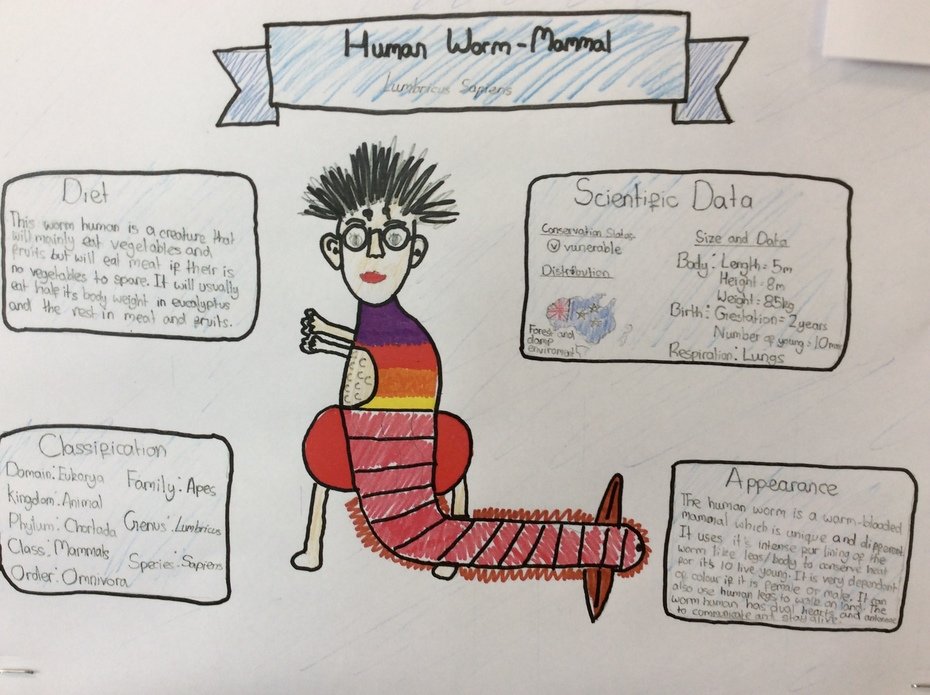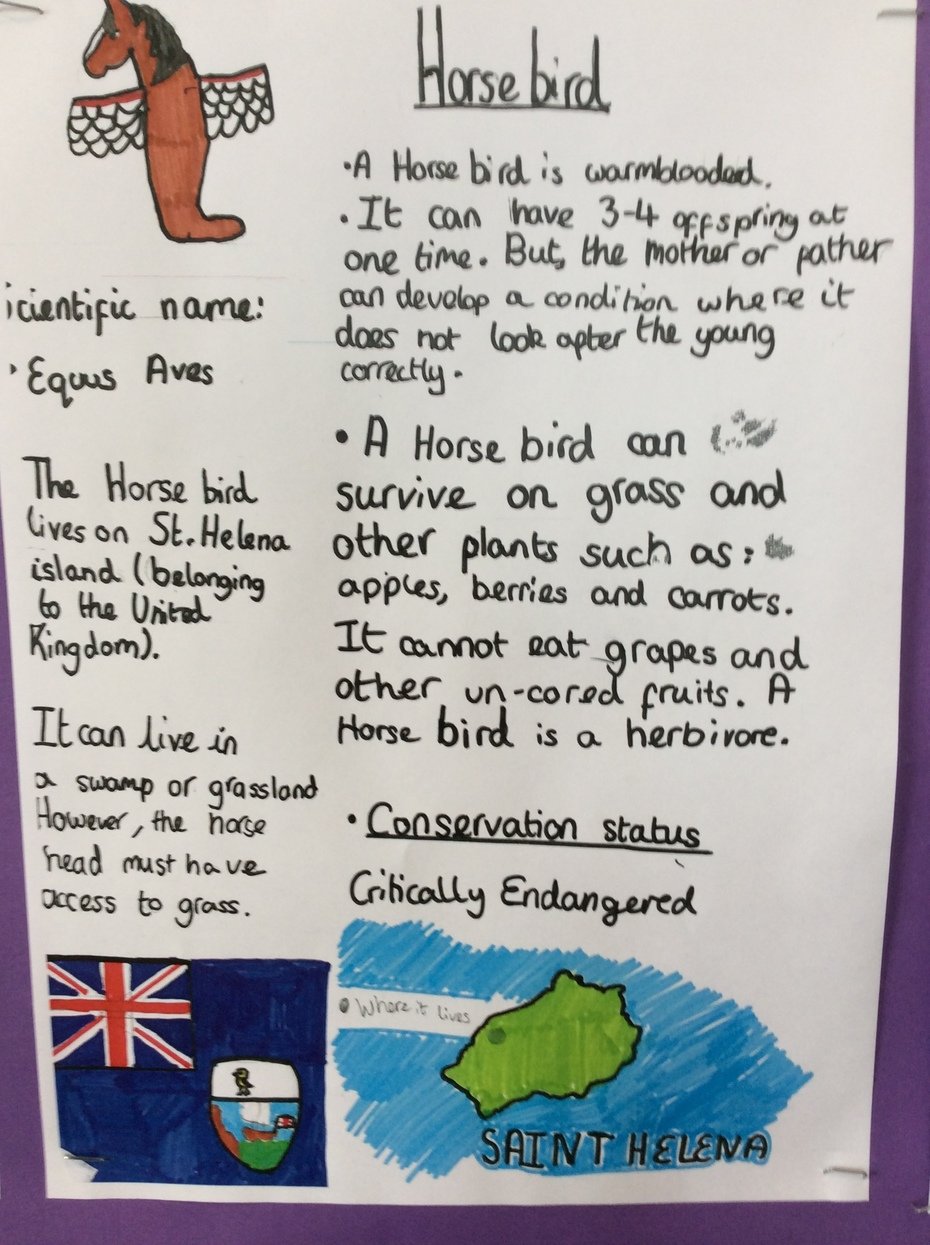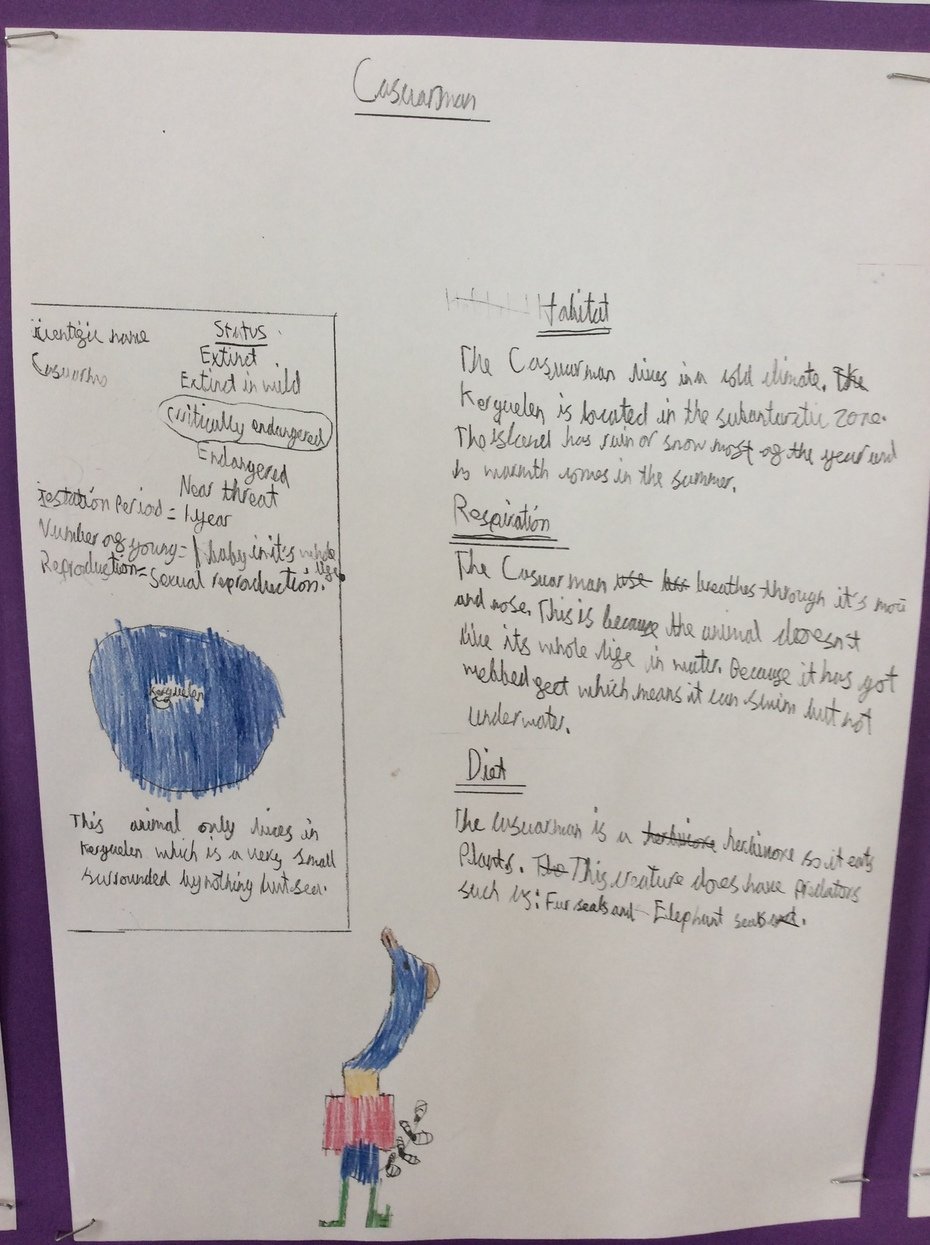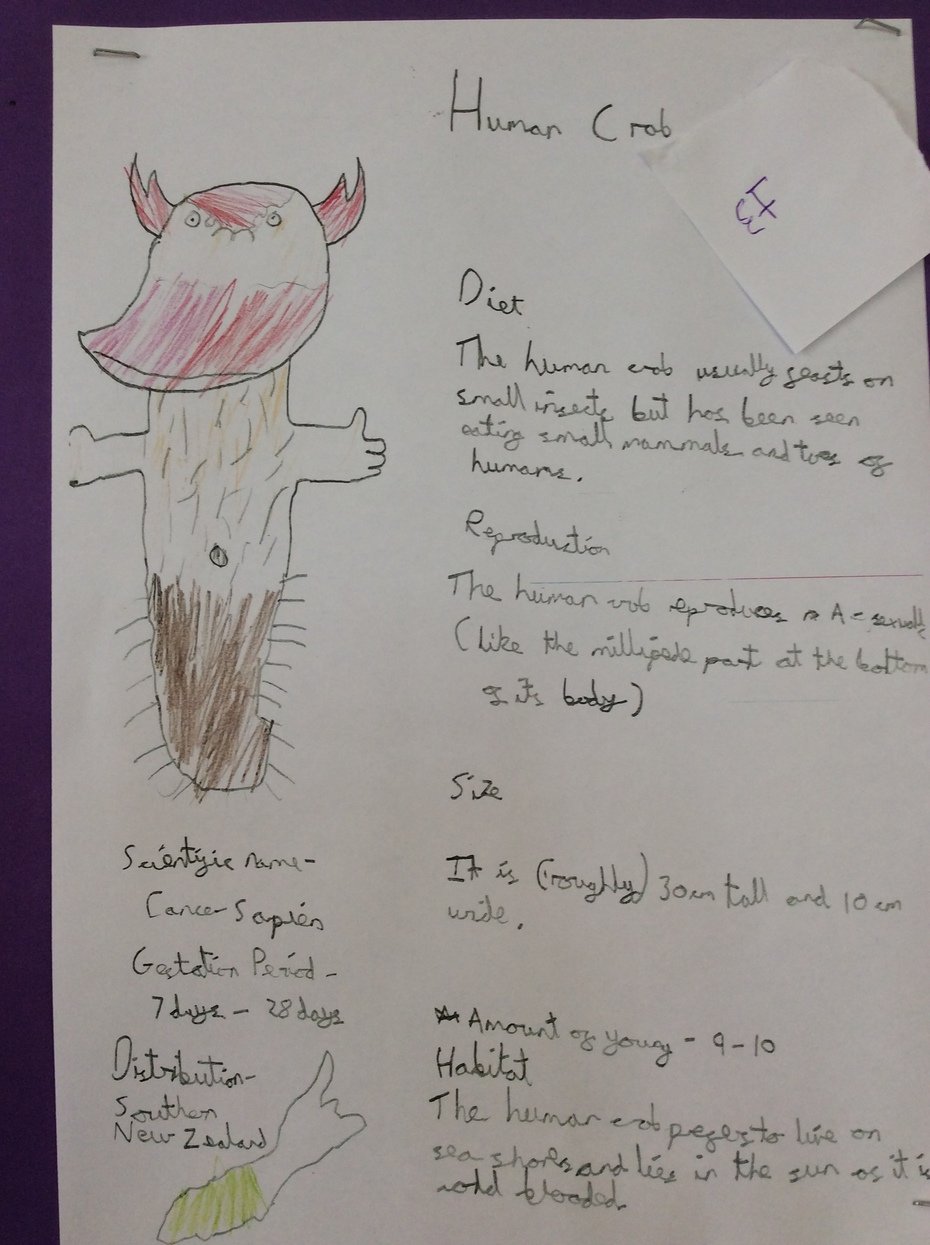 We are readers!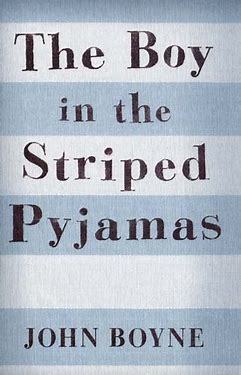 In memory of National Holocaust Memorial Day, the Year 6's have started to read The Boy in the Striped Pyjamas - a book set in WW2. So far, everyone in the class is enjoying it and as we read the book, we will watch extracts from the film to help us get better ideas of what the scene was like and what we could write. Here is an extract:
"The door opened wider and Bruno stepped back as a figure appeared, but it wasn't father. It was a much younger man, and not as tall as father either, but he wore the same uniform, only without as many decorations on it."
We enjoy a challenge!
The 2019 reading challenge
Find a copy here!
Keep visiting our page to see how we are progressing...
We are poets
Recently, we enjoyed a visit from Wes Magee. Here is the poem which Class 6 wrote with him:
In bed at ... midnight.
Car vrooming as it speeds down the highway.
Fox barking when it is scavenging for scraps.
Bedside table alarm clock ticking and tocking.
Thunder banging far away over Burton.
Restless baby crying for warm milk and mushy food.
Shouting teenagers going home after a party.
TV coming on automatically - horror movie.
Jet airliner heading for Cuba or New York.
Noises
disturbing
me
in
bed
at
midnight.
Following on from his lesson, we wrote our own poems, inspired by his poem and our work learning about the First and Second World Wars.
Read some of our examples here:
We wrote cinquains about our favourite places.
Can you imagine being there?
London The Pirelli Stadium Turkey Blackpool Skegness Hargate Equestrian Egypt Cyprus London The Alps Disneyland Paris Norfolk London Gibraltar
Alicante Florida Spain St. Andrew's Football training Cleethorpes Spain CADA Turkey Old Trafford Home CADA Old Trafford
Have another look at your poem at home. Can you improve the imagery you have used, using ideas or new vocabulary we've learnt?
We are kind!
S.T.O.P (Several Times, On Purpose)
At St George's, we are all friends and we don't tolerate bullying. We get along with each other and we are sportsmanlike, generous and caring.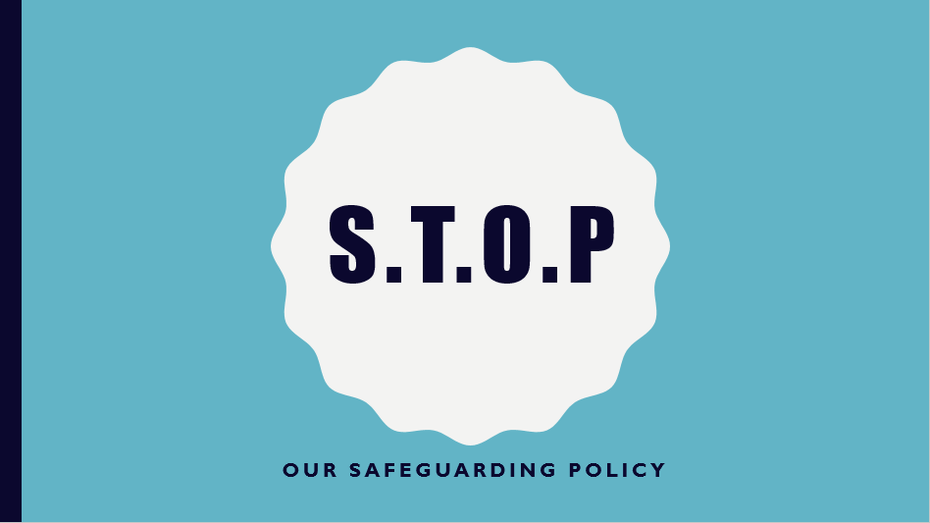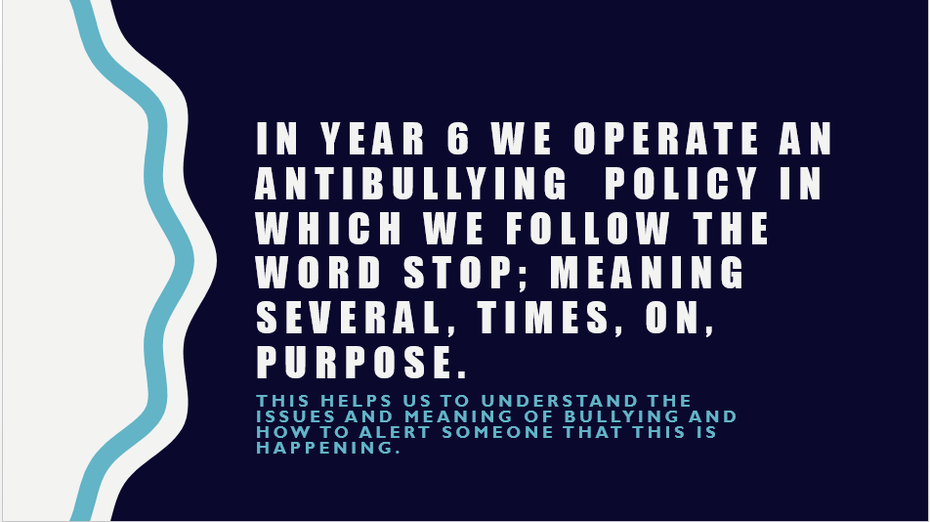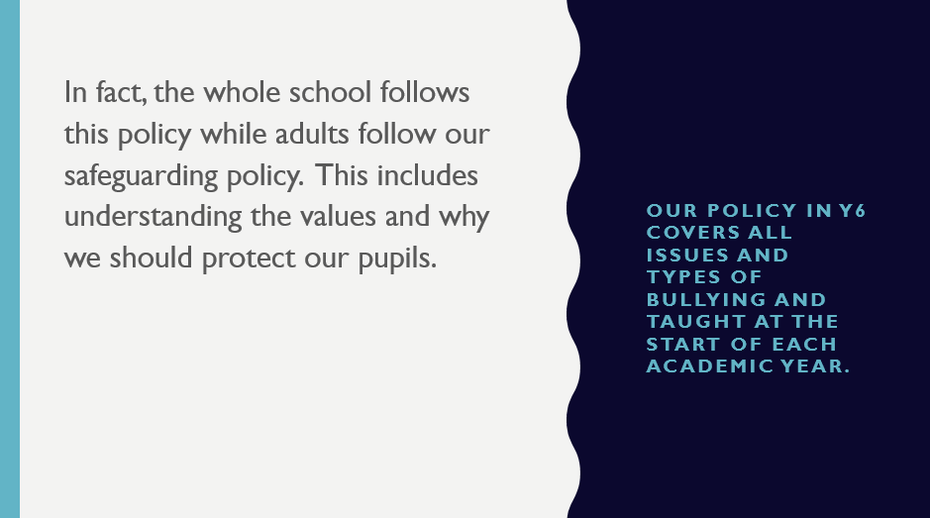 Overcoming fear by Jan Edmunds
Sometimes we don't feel very brave when we are all alone,
When faced with something very new, that leads to the unknown.
We may have fear of simple things like wind or rain or height,
Or fear, when we go to bed, the turning out of the light.
We need to stop and think awhile just why we feel this way,
Remember that the bravest ones can chase their fears away.
Sometimes something happens and then without a thought
We find the very courage to do things as we ought.
Bravery takes over and new confidence we find,
The problem then is overcome and fear goes from our mind.
We Are Proud!
These are our proud clouds! It is where all of our work that we are proud of is displayed for the whole school to see.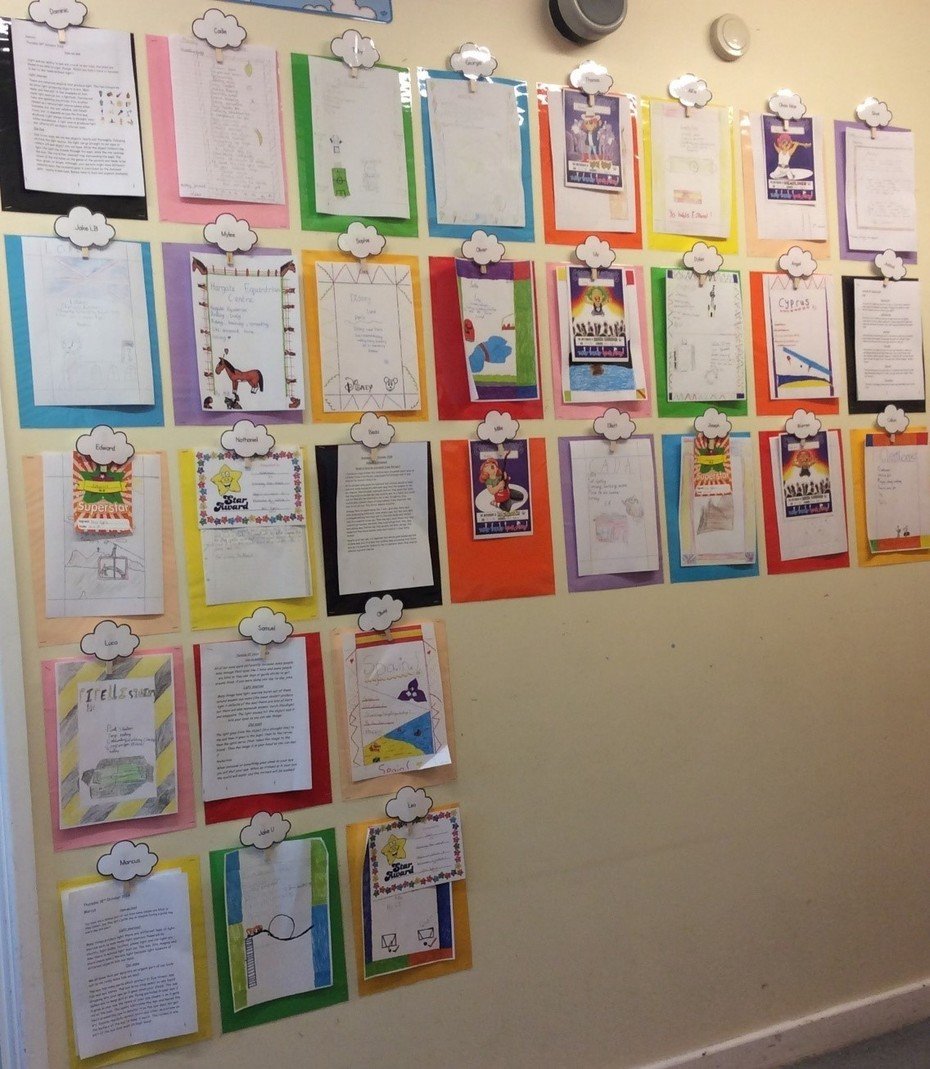 We Are Maths Stars!
This is a photograph of our 'Working Wall' which will change to reflect what we are learning in class.
Sumdog can help us to improve our maths, spelling and reading.

We enjoy taking part in the regular Sumdog challenges - especially when we win!

Did you know that you earn double coins for the questions that you answer at home?

We try to use Times Tables Rock Stars as often as we can to help us to improve the speed and accuracy of our calculations.

We also all have MyMaths log ins. MyMaths is designed to help to improve your child's maths fluency.
Get your 5-a-day here! This is a link to the Corbett maths page where there are 5 mixed questions for every day of the year! There are answers here too!
We Are Eager To Learn!
In Year 6, we have maths and English homework every week. This is usually related to what we have been learning in class during the week, but sometimes may be revision of a topic previously covered. Homework is set on a Friday and is due the following Wednesday.
Here is the homework schedule for this term.
For anyone wanting to learn a little more, or to get ahead, the BBC website remains a good place to start.
We Are Authors!
We have enjoyed reading an extract from 'The Jungle Book' by Rudyard Kipling. We have tried to retell the story, in our own words.
Have a look at our versions of the story!
EA WB NB OB OBD MB GB TE EF DF AG CG JH LRH SH LH CJ JLB SM TMP MMP MRP SS JT LT JU AW DW BY OY
How about taking the time to watch a film version of 'The Jungle Book'? There are many animated versions but also a more modern one. How do they compare to the book? Which do you prefer? Why?
We Are Bibliomaniacs!
Our Reading Corner
In Year 6, we ask "Where will your reading take you?".
We enjoy reading books from all around the world. We enjoy exploring new worlds and different places through our reading.
Our luggage labels (hanging on the right hand side of the board) show how many pages we have pledged to read.
For every page that we read, we gain a mile towards our destination.
We can count reading at home and at school - in fact, anywhere that it is safe to hold our books! We can read actual books, or on a device.
We Are Writers!
We can spell!
Our spelling patterns this term (Spring 1) are:
Week 1 - Adding suffixes beginning with vowel letters to words ending in _fer
Week 2 - Words with a long /e/ sound spelt 'ie' or 'ei' after 'c' (and exceptions)
Week 3 - As week 2
Week 4 - Spellings that belong to the same family of words
Week 5 - Word families based on common words
Week 6 - Statutory spelling challenge words
Year 6 children do not need to learn all of the words in each list - they need to be able to spot the spelling patterns and apply them to different words. Click on the link to find handwriting practise related to each list.
We will also be making sure that we can spell all of the Year 3 & 4 Statutory Spellings and all of the Year 5 & 6 Statutory Spellings by the end of the year.
Here, you will find links to the SPAG (Spelling, Punctuation and Grammar) glossary. By the end of Year 6, children need to know all of the terms in this glossary here. Here is a year by year breakdown - useful if you have younger children in school too. In Year 6, we learn the Year 6 terminology and revise all other year groups.
Parents' Zone
Please find below the resources which we discussed at parents' evening.
Top tips for dealing with stress
SATs Survival Guides
Each pack contains some guidance for parents, along with some sample questions which you can use with your child.
Grammar, Punctuation & Vocabulary
Reading: Information for parents, fiction, non-fiction and poetry examples.
Spelling: Guidance and quizzes 1, 2, 3, 4 & 5.
Monday 13th May, 2019

Tuesday 14th May, 2019

Wednesday 15th May '19

Thursday 16th May, '19

Friday 17th May, 2019

KS2 English GPS tests

Paper 1 - Questions

Paper 2 - spelling

KS2 English reading test

KS2 mathematics tests

Paper 1 - Arithmetic

Paper 2 - reasoning

KS2 mathematics tests

Paper 3 - reasoning

No tests :-)
Comments (0)
There are currently no comments.